SIGNS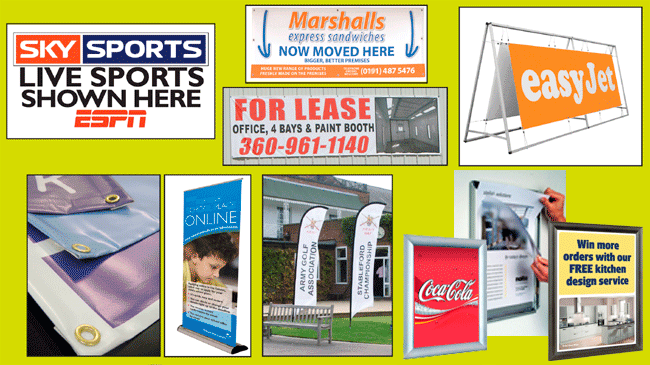 FRONT OPENING SNAP FRAMES
Silver
£5.00
£6.40
£10.20
£15.50
Black
£6.50
£8.90
£13.00
£22.00
FOAMEX and ALUMINIUM SIGNS
EXTERNAL GRADE BANNERS
With Eyelets
£20
£63
£119
QUALITY PULL UP DISPLAYS
SPEC
800x2000mm
1000x2000m
Please note: Most quoted DO include delivery to one Leeds Address, but not VAT, and assume print ready artwork is supplied, Kudu does provide a full design service if required. If unsure please ask.
Designed and manufactured using computer based systems, Kudu can deliver a massive range of display items, a few of which are listed below
Banners, Snap Frames, Foamex and Alumex Signage, Pop-Up Displays, Flat Screen Murals, Modular Displays, T3 Tubular Frame, Pull-Up Displays, Display Banners, Panel Displays, Poster Holders and Frames, A Frame, Poster Displaying , Metal Framed signage, Clear Plastic and Acrylic Display Systems, Plinths & Pedestals, Demonstration Counters, Laminating & Mounting Specialist Print Media, Picture Frame Cutting, Vehicle Livery
This web site is intended to show only a small selection of products which may be of interest to you. If you cannot find the item you are looking for please visit the contact page, fill in the form and we will be pleased to ring or email you.